You're just minutes away from seeing design, composition and analysis in a new way.
Free two week trial of the full version. 30 day no-questions-asked money back guarantee with purchase.
Commercial use (two computer) license for $59.95 – Special this month $34.95
Combo special – Like both PhiMatrix 1.618 Pro AND PhiMatrix Golden Ratio Design? Purchase 1.618 Pro version and get Golden Ratio Design for only $7.00 more on checkout!
Educational discounts available below.
PhiMatrix 1.618 Professional version includes the great basic features of PhiMatrix Golden Ratio Designer and adds:
Enhanced analytics-oriented user interface
Additional grid line ratios (Fibonacci, rule of thirds, custom user ratios)
Additional shapes (circles, ovals, triangles, squares, rectangles, pentagrams)
Custom templates (market price/time, face and dental)
Annotations (header and footer).
See what customers say on the Testimonials page or examples of uses on the Applications page.
Download and Installation
Click on the icon for your OS below to download and install the latest version. (Virus and malware free verification by VirusTotal)
| | |
| --- | --- |
|   | |
| Windows XP / Vista / 7 / 8 / 10 | macOS 10.4 – Current (64 bit) |
| .exe file | dmg |
Follow the prompts to complete the installation.
No credit card or personal name or address information is required for the free trial.
Watermark disappears upon purchase.
If you have any installation problems (anti-virus errors, unidentified app messages, etc.) see the Installation FAQ page for immediate solutions or contact technical support via the Contact page.

Mac Users see Apple Support re unidentified developer: In the Finder, locate PhiMatrix. Press the Control key, then click the app icon. Choose Open from the shortcut menu. Click Open. The app is saved as an exception to your security settings, and you can open it in the future by double-clicking it just as you can any registered app.
Windows 8.1 Professional and Windows 10 message re virtual machine: Go to Control Panel, click "Programs", click "Turn Windows features on or off", uncheck "Hyper-V" checkbox, click "OK". Restart Windows. Install PhiMatrix. If that doesn't work, please contact us for alternate resolution.

PhiMatrix is then ready to use and will open displaying the basic Control Window and overlay grid as shown below: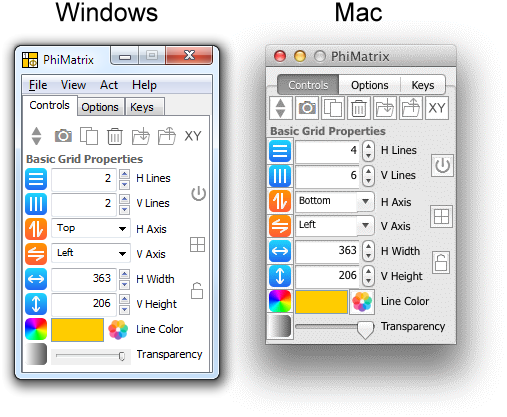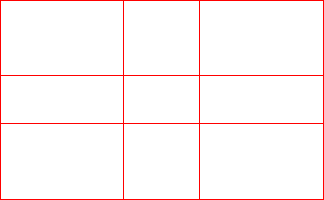 Control Window Modes
Clidk the up/down arrow icon on the top left to reveal the additional controls available.

Getting started
Move the grid by grabbing and dragging from just below the top border.
Resize the grid by grabbing and dragging just inside the border lines.
Click on the Control Window icons to make selections on lines, colors or transparency.
Keep it simple or click on the up/down arrow icon  to display the Advanced and Expert mode controls.
Watch the videos in the right sidebar or explore the Uses, Quick Start or Help Index pages.
The PhiMatrix watermark disappears when purchased.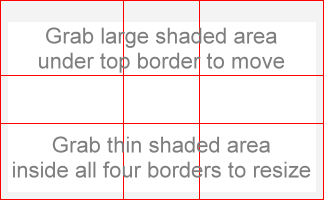 Purchase
Purchase via Menu Option – To purchase PhiMatrix, use the built in Act(ivate) – Purchase menu option to purchase a license with automatic registration of your serial number.  Windows 8 users should right click on the PhiMatrix application and select "Run as Administrator" in order to access the registration window when selecting the Act – Purchase menu option.

Windows Version

Mac Version
Purchase via Online Store – If you have any difficulty purchasing the software using the built in License – Purchase menu option shown above you can also purchase a license by going to the PhiMatrix Online Store.  With this option:

Complete your purchase online to get your license code.
Select the License – Activate menu option in PhiMatrix.
Enter the license code to complete activation.
Pricing and Discounts
50% Educational Discount – Just send an email to request an educational discount with a .edu or other valid school system email address to which your coupon code for a 50% discount can be sent.
Needs-based and developing country discount – You can also send a message from the Contact page us to request a discount based on needs or in countries for which the US Dollar is very expensive. Just state where you are and your circumstances.