You're just minutes away from seeing design and your world in a new way. Free two week trial of either version or both.
Nature doesn't design with "the rule of thirds" or other simplistic approaches. You don't have to either.
PhiMatrix gives you a design tool that overlays any image in

any

other software.
You'll use design templates based on nature's secret of design, the golden ratio.
You'll select a template to complement your project with just a few clicks of a mouse, or easily create your own. (See examples of uses)
You'll make great composition and design decisions in seconds.
Your results will be as unique and creative as you, yet use the same principles of design found in nature. Others will see them as natural and innately pleasing.
Users from over seventy countries have found many ways to use it, and shared many unsolicited, rave reviews on how it has helped in their creative works.
Experience PhiMatrix for free with a two week trial. It's available in two versions, Golden Ratio Design or 1.618 Professional. The Design version is great for creative types who prefer a simple user interface to access golden ratio grids, diagonals and spirals. The Pro version is great for those who want to use custom ratios other than the golden ratio, and who want an expanded set of templates such as circles, ovals, triangles, pentagons and more. See the feature comparison chart below for other details.
Can't decide? Like both? This month you can purchase PhiMatrix 1.618 Professional and get PhiMatrix Golden Ratio Design for only $7.00 more on checkout. Use them together to overlay grids or whichever one best meets your needs for a given project. You get a 30 day "no questions asked" money back guarantee on any purchase.
Our newest release of PhiMatrix, with a completely-redesigned, streamlined user interface to make composition and design quick, simple, intuitive and fun.
Recommended for artists, designers and photographers.
Includes all the best and most commonly used templates and features of PhiMatrix 1.618 Professional, as well as usability enhancements not yet available in Professional. Most important of these is the ability to create unique design templates that combine grids, diagonals and spirals at the same time.
Select program options by just clicking on the icons on the tool bar, or customize them by using the popup windows available from the Edit menu or by holding the Control/Command key while clicking.
One time purchase price of $19.95. This special introductory offer price includes PhiMatrix Golden Ratio Design software, free software updates for one year and access to an upcoming tips and training series with articles, videos and interviews with artists, designers and photographers on their approach to composition and design.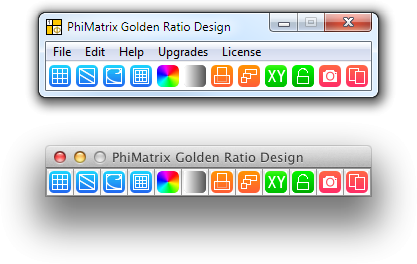 As an example, just click on the Spiral icon to get a golden spiral: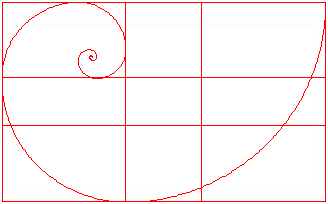 And if you want something more unique, here's just one of the optional customization windows, for golden spirals: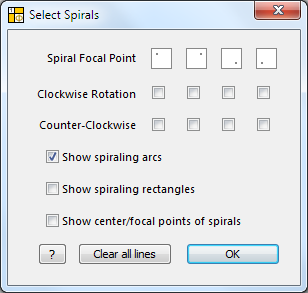 Our flagship product since 2009, used and loved by thousands of customers in over seventy countries.
Recommended for those who prefer a more detailed, numerical control window, grid line ratios other than the golden ratio (Fibonacci, custom user ratios), additional shape patterns and annotations. Also includes translations to over a dozen languages.
Commercial (single user, two computer) license for $34.95.
Feature Comparison of PhiMatrix Golden Ratio Design vs. 1.618 Professional (screen shots above)
Summary: Both versions have a good degree of similarity and overlap in their functions but also have their own distinct differences.
Pro offers a lot of customizations of grid line ratios other than Phi that Design does not. It also has templates for squares, rectangles, triangles, circles, ovals and pentagons that Design does not. It also has over a dozen languages available.
Design has a much simpler interface, more ability to overlay and customize grids, diagonals and spirals to create unique patterns. It also has a more robust tool for converting onscreen pixel dimensions to your project dimensions.
They can be used separately or at the same time, depending on what you're wanting to accomplish. You can download free trial versions of both and see which you prefer from there.
| | | |
| --- | --- | --- |
| Feature | Golden Ratio Design | 1.618 Professional |
| User interface | Simple Tool Bar with 12 icons and 8 popup windows for custom options | Comprehensive Control Window with over 70 icons and controls |
| Templates overlay any other software or image | Y | Y |
| Grids, diagonals, spirals | Y | Y |
| Grid controls – Border size, grid color, transparency, orientation, aspect, XY dimensions, lock in place, reset | Y | Y |
| Image save to disk, copy to clipboard and print | Y | Y |
| Save grid settings to disk and load for later use | Y | Y |
| Adjust transparency of grid handles | Y (Edit – Options) | Y (Border Type) |
| Control Window "always on top" mode | Windows only | Windows only |
| Move and resize grid using keyboard arrow keys | Y (Best: Just click on Control Window first) | Y (Good: Click on Keys tab of Control Window) |
| Combinations in a single overlay | Best: Grids, multiple diagonals and multiple spirals together | Good: Single grid, spiral or shapes (listed below), with a single diagonal |
| Shapes – Circles / ovals, triangles, squares / rectangles, pentagons, pentagrams | To be added in a future release | Y |
| Special purpose templates | | Face, rule of thirds, market price and time, Levin dental grids |
| Grid line ratios | Golden ratio only | Golden ratio, Fibonacci, inward/outward progressions, rulers and any custom ratio |
| Translate controls and menus to other languages | English only now, but icon-only toolbar makes it easy to use in any language | 14 of the most commonly spoken languages |
| Zoom the grid to a new size | | Y |
| Golden ratio based color palette generator | | Y |
| Annotations with notes on header and footer of template | | Y |
| Adjust width of grid line | | Y |
| | |
| --- | --- |
| | |