Free copy of PhiMatrix for editorial review
A free copy of the full version of PhiMatrix will be provided upon request for editorial review to anyone representing a print or online magazine or software review site.  Email your request to: comments@phimatrix.com
Receive a free copy of PhiMatrix for yourself or to share with others
We are pleased to offer a free copy of PhiMatrix to anyone with a website or blog who links back to www.phimatrix.com with a brief description of the software and how you use it.  Just send a link to your website or blog and you'll receive a coupon code for a free copy of the software for you, a friend or co-worker once your site is reviewed.  Your site must be searchable by Google to qualify, and not a temporary listing or private home page such as those often provided by Internet Service Providers like Comcast, AOL and others.  Some searchable text such as the following is requested:
Earn commissions by selling PhiMatrix as an Affiliate
Anyone interested in selling PhiMatrix from their website or blog may sign up for an affiliate account by going to the following link:
https://affiliates.esellerate.net/Affiliates/home.aspx
There is no cost to sign up and you earn 20% on the sales of PhiMatrix that you generate.  After you create your affiliate account, register to add PhiMatrix for Windows and/or PhiMatrix for Mac as products you would like to sell.
Support Materials
Logos, banners and product descriptions are available below for use on your site.
Thanks for your support.
Gary B. Meisner
Developer of the Golden Ruler™, Golden Grid™ and PhiMatrix™
Author/Developer of http://www.goldennumber.net
---
Sample text references and logos for inclusion in affiliate and referrer sites
Website link:  www.phimatrix.com
Hyperlink text for links:  <a href="https://www.phimatrix.com">www.phimatrix.com</a>
Sample Text Comments
Graphic design and analysis software based on Phi, 1.618, the Golden Ratio.
Unveil the beauty, harmony and balance of nature's proportions. Use it for your own analysis, designs and artistic creations.
PhiMatrix is a graphic design and analysis tool that overlays a variety of grids over any other program that let you see and apply phi (1.618) and other proportions to any image to achieve excellence in design and composition.
PhiMatrix is a graphic analysis and design tool that lets you see and apply phi (1.618) and other proportions to any image. It overlays any other program with a variety of user controllable grids to layout any composition or analyze any image, and then lets you save, copy or print your image. It can be used for any design application your mind can conceive.
PhiMatrix can be used for any design application your mind can conceive, whether laying out a canvas for painting, cropping a photo, creating marketing materials or designing anything from clothes to cars to furniture to buildings. PhiMatrix software unveils the phi proportions that can be found in DNA, sea shells, plants, animals and human faces and even in the stock market. The phi relationship, 1.618:1, known as the Golden Section (also mean, proportion or ratio) and the Divine proportion, has long been used by artists, architects, designers, engineers, musicians, photographers, sculptors, surgeons and stock analysts alike to achieve excellence in their results. Now you can use it too, to analyze and better appreciate what already exists, or to create and design your own masterpieces in the same proportions that give nature its beauty, harmony and balance.
In Design & Composition applications, easily apply the timeless aesthetics and natural appeal of the Golden Ratio to your own creative works in art, architecture, graphic design, logos, product design, photo cropping, and more.
In Financial Markets applications, use PhiMatrix as a tool to analyze and predict timing and price movements in the stock markets or foreign currency exchanges.
In Cosmetic Dentistry applications, apply the Golden Ratio in achieving excellence in dental aesthetics and as a tool to help patients understand the natural appearance of planned enhancements.
In Nature & Beauty applications, explore and unveil the appearance of Phi, the Golden Ratio, in nature and in the beauty of the human form.
Logo and Banner Images
160 pixel width: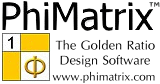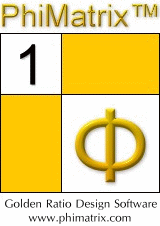 227 pixel width:

360 Pixel width:


Other sizes: